GameBanshee has named Dungeons & Dragons Online: Menace of the Underdark best Expansion/DLC of 2012!
Full story:
http://www.gamebanshee.com/editorials/110615-game-of-the-year-2012/page-2.html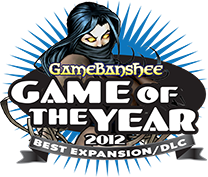 Congrats to everyone on the DDO team! Menace of the Underdark was the first project I worked on when I started at Turbine, and it's been my favorite so far! I had a ton of fun with the new monsters for the expansion, especially the Draegloth and Yuan-Ti. The past few months I've been having a blast working on all the cool new creatures for the updates - so check them out at
ddo.com
. It's free to get started!